Announcement on the brand new service, BIDA : Digital Dashboard
BIDA stands for Business Intelligence & Data Analytics that is the gathering of significant business data from multi-dimensions as requested and analysis for hidden insight to be exhibited on Digital Dashboard for you to learn more in-depth information in the instant.  
"Our team has been developed this service for over 2 years to deliver the best solution that can answer to all needs from both public sectors and businesses. The heart of BIDA is the invaluable asset of time." –
Vachara Aemavat, CEO Computerlogy
BIDA : Digital Dashboard's Strengths
BIDA is ready for 360 degree connection from all angles. From Structure data, Unstructure Data, Organization Data, Marketing Data to Social Media data, they will be presented in the Business Intelligence dashboard that perfectly integrate multi-channels, leading to more dimensional data results and hidden insights.
Usability & Understandability
Reports are precisely designed according to requirements that will directly benefit the clients. They are easy-to-understand in a glance and accessible via internet for highly flexible in management and secure dashboard sharing.    
The seamless stream of data, beginning from importing to presentation, makes the instant data verification simple in just a few clicks.
Our designers understand the client's demands in the analysis and dashboard creation technology that must include Corporate Identity such as colors and forms. The dashboard is as beautiful as it is smart in presentation, showing the cutting edge technology's capability to help in finding business solution.
Great design of the dashboard allows for an instant update in forms and data. Due to BIDA's ability to connect to the database or 24/7 data provider, this results in an immediate change in data presentation.
What's important is how it can be used in the form of presentations, such as an executive dashboard or analysis dashboard that can be comprehensive for research and insight findings.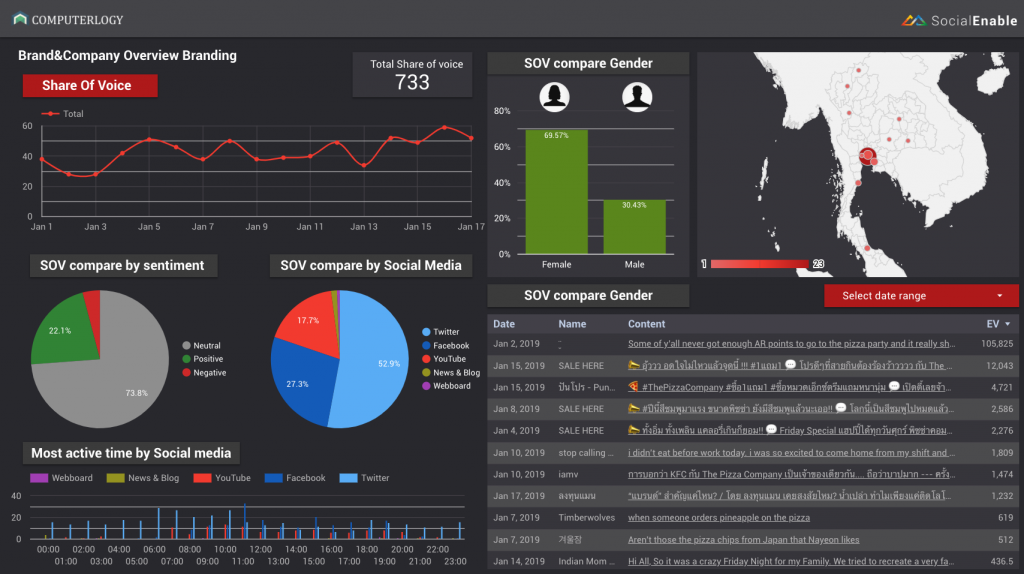 Years of Data & Measurement
In 2019, it is now widely accepted that data-driven concept is vital to the utilization of business's aspects to the higher efficiency. It's also considered as the business approach's core in the data-driven organization. The foundation of valuable data, consisting of social media data, online and offline data, business transaction and organization data, can be put together to build an analysis and measurement work to improve and develop the business to the next level. 
"Clients are our most important provider on challenge, knowledge and advice in the development of this service. We have been tried and true in searching for the solution alongside our clients. This method has helped us gain the experiences quicker in a precise manner, in both of tools and technology involved, and then BIDA Digital Dashboard and our specialist team of expert ready to best serve our sponsor was born."
Praparl Kanjanophas, Product Manager @ Computerlogy
Computerlogy is a company driven with cutting-edge technology that is used in every aspect of our business and helps define the customer journey into a clearer understanding. From gathering the necessary data such as Paid, Owned และ Earned media to measuring conversion rate according to the Sales Funnel concept. All this is to continue to find better insight for effective client's business strategy and development.  
For more information, go to >> m.me/computerlogy.co.ltd